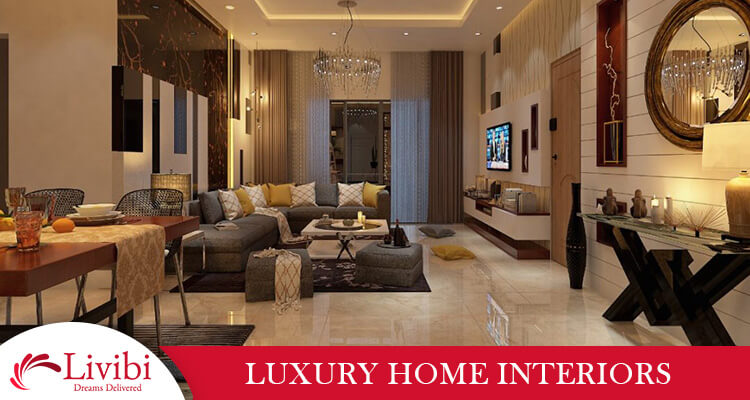 Build Luxury Home Interiors On a Budget
A first home can be expensive to build or purchase. Many first-time homeowners believe that their limited budget will keep them from designing their dream deluxe home, but we disagree. You can still get the things you really desire even while staying within your budget. You just have to be picky, that's all. If you're intending to build a new custom home and are seeking the best custom home design ideas that'll help you plan and design a beautiful home on a budget, follow the tips and tricks with the help of the professional home interiors designer listed below and enjoy luxury living without going over your budget. –
Transform with Tile 
Tile will add a lot of design for a little cost and produces a lovely, timeless surface. You can keep prices down and get a gorgeous aesthetic by using subway tile in kitchens and bathrooms. Consider introducing a second tile pattern in a different color or size to create interest if you have the extra money in your remodeling budget.
Illusions of Mirrors
A little smoke and mirrors never hurt anyone when it comes to making your house appear more opulent. Mirrors strategically placed are a fantastic method to create the illusion of more space. They also offer the additional benefit of increasing the amount of natural light in a place, which is particularly helpful in areas that feel claustrophobic or get little sunlight. You can take help from the expert home interior decorator while deciding the right spots to place the mirror to achieve this effect!
Complement Finishes
By harmonizing hardware finishes, you can give a bathroom or kitchen a fresh new look. Your area will look polished and rich by replacing mismatched items with fresh, complimenting ones. For a modern, timeless design, think about using matte black hardware on your fixtures.
Incorporate Houseplants
Expert home interior decorator believes that real and artificial plants are a terrific way to instantly beautify any area. Plants are a simple and effective way to add color, and they can also be used to create instant focal points in any space. The plant pot or vase can be an innovative approach to add texture and an excellent focal point, and it is almost as vital as the plant itself. There are plants on the shelves, the floor, and the window sill. Make a mess of it by putting big ones in tiny spots and huge ones in corners that trail down over everything both inside and outside. Any home will instantly be glitzy!
Take vintage home
You'll be astounded by the hidden gems available at antique markets as you are by the bargains. Some vintage items just naturally exude a sense of elegance, and they also have the added advantage of giving your home a distinct personality. Simply be prepared to overlook minor flaws. Your vintage discovery will soon seem brand-new if you don't mind doing a little painting and repair work!
Implement layered lighting
Lighting is one of the most significant concepts in a place, although it is frequently overlooked. For the space to feel more spacious, you should have a diversity of light sources. However, going glam on lighting doesn't require you to break the bank. You can use a wonderful pendant light instead of a regular table lamp, or you could put candles in pretty, reflective hurricane pots. Try plug-in sconces for another low-cost, no-labor option. If you take the advice of an expert home interior decorator, placing these next to furniture arrangements can be an inexpensive method to modernize a room without having to pay for wall rewiring. Adding dimmer switches is another approach to make a room appear more expensive—this allows you to control the lighting so that the space feels warm and cozy.
Use peel-and-stick wallpaper to add a pattern
Walls with striking patterns can give off an affluent vibe, but the decoration need not be pricey. When updating your home on a budget, peel-and-stick wallpaper is an excellent option because it's typically less expensive than regular wallpaper and is much easier to hang. Try this wall treatment in a compact area, such as a laundry room, powder room, or entryway, to add significant style while keeping expenses down.
Selecting Fine Materials
To achieve the desired luxurious feel, incorporate high-end materials like velvet, wood, stone, and metal into your fixtures and decor. Premium materials, of course, are often expensive. This is when selecting similar but less expensive options pays well, such as velour in place of velvet, wood in place of jarrah, or engineered stone in place of marble. If the materials are picked with a designer's eye, the end result will be just as remarkable as the original. Similarly to that, smart shopping pays off and a professional home interior designer can help you with it. Although you might be tempted to go out on some designer furnishings, keep in mind that these high-end brands come at a hefty cost. If you look at it, there's a good chance you may discover a comparable, equally stylish alternative that doesn't have the pricey label.
Create the illusion of higher ceilings
High ceilings are a striking feature in many expensive homes. If physically raising the ceiling height is beyond your remodeling budget, you can create the illusion of a taller ceiling by using window treatments. Choose long, flowing drapes and hang the curtain rods closer to the ceiling to give the impression that the room is larger.
Create Space
Open space is one of the best ways to give your house a luxurious vibe, and you can often get it by just moving furniture about, clearing out clutter, and investing in some smart storage solutions. When that isn't enough, home addition or garage conversion might create a new, independent space or enlarge an existing room. With some clever cost-saving strategies, both are doable on a budget. Please keep in mind that expert guidance from an interior design company is always necessary for home renovation projects like additions and conversions in order to comply with building requirements.
Lay a large rug over it.
Small rugs make your rooms seem little. Choose a larger, less expensive rug over a smaller, more expensive one, especially if you have children or dogs because they can damage wool rugs. A bigger rug will make your space appear larger and airier, which will make it appear more expensive. It can still be durable even while it has a luxurious appearance. Jute carpets are a fantastic choice and are frequently available at outlet stores for home goods. They have a wonderful texture and an earthy, grounded feel.
Wrapping Up!
So, these are some of the best tricks that you can follow to decorate your home under a budget and attain a sophisticated vibe. If you are still unsure about where to begin and need help with custom home decoration? Consider contacting our expert home interior decorator to plan it up for you!