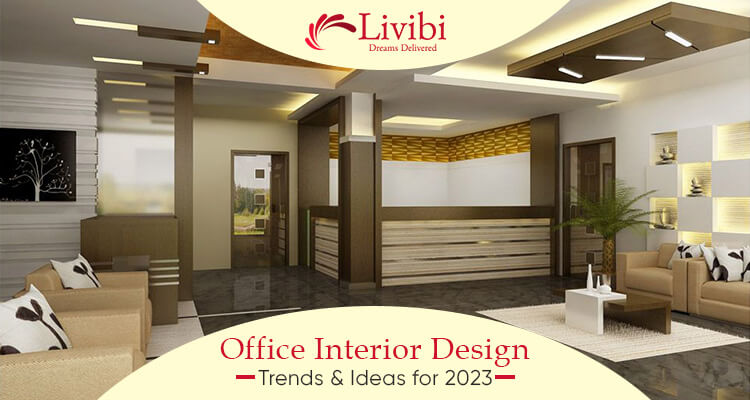 Office Interior Design Trends & Ideas for 2023
In 2022, office layout and functionality will play a significant role in a company's HR brand. Creating a welcoming environment for employees to return to the workplace is more crucial than ever for businesses. After all, many employees are returning to their workstations after a prolonged absence, while others will keep working from home or in co-working spaces. 
Employees are more drawn to a company with a welcoming and appealing workplace. Therefore, architects and designers are revamping these areas to better suit the demands of the new workers, whether it be the company office or the home studio. 
The concept of experience-based design is not new, but as we start to reopen the workplace in its new form, people are paying more attention to it. New technologies are introduced as the office space and interior design industries grow, changing our lifestyles and creating new opportunities for cooperation, communication, and information sharing.
To successfully renovate your current office building or make plans for a new one, it's essential to be informed of these contemporary office trends.
Color-coding Space
Color psychology is the study of how color affects feelings and actions in individuals, depending on one's upbringing, cultural background, and personal experiences. Think strategically about color and the impact you want it to have on your team. Bolder colors may create excitement, but softer tones may produce a more tranquil environment. It's in your best interest to select colors that complement the branding and mission of your business.
Layouts for Flexible Pod Areas
Flexible office layouts and "pods" have come to the forefront during the past ten years as more businesses have adopted open-concept workspaces. People look for privacy and secure work environments when they are employed. These workplace trends also include "pod areas," which give enough space for conversing and video conference conversations, as well as working safely on research or completing particular tasks.
Instead of fixed-wall blocks, portable partitions allow you to divide a space into multiple types of rooms, making them the ideal choice for offices with space limitations. In 2022, this style of architecture will be the most adaptable and cutting-edge because it not only provides privacy but also promotes collaboration. The pod, on the other hand, is an efficient approach to provide privacy for given duties without having to construct a brand-new office chamber.
More sunlight and less artificial lighting
In order to save money, interior designers in 2022 will only select energy-efficient lighting. However, in light of what happened during the pandemic, interior decorators and architects are trying to find solutions to make healthier workspaces. Designers and architects consider factors including daylight, fresh air, light transmission, and color rendering. It is becoming more customary to hire interior and architectural designers to develop better workplaces that embrace natural light and ventilation.
Use Environmental Graphics and Wall Murals
Nobody wants to stare at dull walls. Wall space is an excellent opportunity to showcase who your firm and its employees are, as well as what you believe in. For instance, a wall mural can connect the natural beauty of your location with your business culture. Environmental Illustration:
Effective cooperation and well-being by inspiring, motivating, and bringing people together

Reinforcing business narrative and brand identity

Framed art, freestanding wall panels, dimensional and lighted logos, and calligraphy or column wraps can add dimension to your room.

Make a unique and cohesive aesthetic environment

Provide privacy with glass walls and partitions.

Add acoustic control panels along with color, form, and texture.
Noise Reduction
It is difficult to concentrate when there is a lot of noise around. As a result, in transformable offices, it is essential to create quiet zones for concentrated work, conferences, and official meetings, as well as quiet zones across the premises to ensure optimal soundproofing. There are other features, such as acoustic dividers, that will help. You can talk to the team or call a client without upsetting others or being distracted by background noises. The offices in the open area can be separated by soft acoustic dividers.
Green & Sustainable Solutions
To start, it's important to understand the difference between eco-friendly items and sustainable resources. After their life cycle is completed, sustainable materials can be reused or recycled. Keep in mind that when searching for the ideal office design, you should not only choose furniture made from sustainably harvested materials but also pay attention to office interiors with an eco-friendly approach. Office ecologists advise companies to employ furniture made of recycled or recyclable materials. For instance, office chairs manufactured from recycled plastic are a fantastic option because they give the idea of consistency throughout the building. Additionally, consider how the paint finishes on your office's ceiling and walls can impact the quality of the air.
Including Internal Stairs
Elements like internal staircases should be taken into consideration, just as it is important to include greenery and natural airflow in office plans. Internal staircases are a must for organizations, and proprietors are adapting to this by pre-planning for internal staircases and even installing staircases for older buildings. Internal staircases have the extra benefit of providing more natural light. The levels that will accommodate a staircase will boost natural light and provide the sense of bigger ceilings.
Open-concept layouts
When building a modern office space, open floor layouts are a popular feature. Consider redesigning workstations to provide both private and public areas that transition smoothly, enabling employees to experience the environment that supports their activity as they perform tasks. Keep in mind that some employees might work every day, while others might only show up once a week or once a month. Therefore, even though not every employee will have a specific desk, they should all have a set place to work.
A workspace with expansive windows
Today, most office buildings provide panoramic vistas. Beyond aesthetics, the concept is definitely beneficial. Large windows have significantly improved office building isolation. The windows should ideally take up 20% of the total workplace space or employees are more likely to be in the dark and less productive. The windows enable sweeping views of the landscape. You will appreciate cityscape views if your office is located in a tower in a big city.
Lounge Comfy Spaces
Some companies are renowned for their epic perks, which range from beer on tap to foosball. Although not every company prioritizes this degree of downtime, there are a few luxuries that no company should overlook. A simple kitchen area with options for hot and cold beverages is something we believe every workspace should have. It can be as simple as a properly scaled coffee and tea station and a water cooler, or as sophisticated as an espresso bar and a fridge loaded with juices, seltzers, and fresh fruit.
Double-height ceilings
High, exposed ceilings are now an integral feature of the office environment where businesses want to improve their employees' mental well-being while at work. The HVAC systems of a building do not need to be hidden by unsightly drop ceilings anymore. Instead, make them visible by painting them in vibrant hues to match the atmosphere of your company. 
The Office Trends of 2023: The Outline
Industry insiders claim that the following is the current trend:
A reconfigurable workplace where distant workers could show up as needed. 

Modular furniture and transformable office walls will help you in outfitting such a room while allowing you to easily change its layout.

Implement different technologies to reduce employee interaction with surfaces and to coordinate successful remote teamwork.

Offices that are nice and comfortable and provide a homey feel.

Natural materials, an abundance of greenery, and a reverence for natural resources.

Taking care of employees' physical and mental well-being.
The workplace trends for 2022 prioritize internal functionality as well as aesthetic appeal.