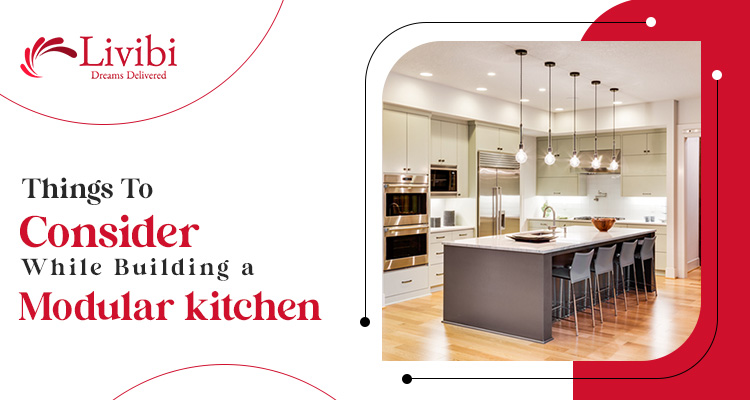 Things to think about when building a modular kitchen
Designing a modern kitchen is no small task. There are countless features to consider before you start planning your dream kitchen.
From countertops to sinks, lighting fixtures to appliances, you must decide where to put them. While it might seem like a daunting process, there are actually quite a few steps involved in creating a functional and gorgeous space. Read on to learn a few of the most important elements to include when designing a modular kitchen.
1. Location
Ideally, you should place your modular kitchen near a window or another natural source of sunlight. This will allow you to bring the outdoors inside and add a touch of nature to your home. Make sure that you have adequate ventilation in order to avoid condensation.
In addition, you must take care of temperature levels in the room where you intend to install the kitchen module. You can control the temperature by installing ceiling fans or opening windows. As a matter of fact, the ideal temperature range is between 68°F and 72°F.
2. Layout
You should decide on the placement of your kitchen modules based on your lifestyle. Do you cook a large meal once in a blue moon or prepare meals regularly? Will you entertain frequently? Decide on the location of your kitchen modules based on your answers to these questions.
Place the kitchen modules nearest the dining area and away from appliances such as washing machines, dishwashers, refrigerators, etc. This will give you ample space to work comfortably. Also, try to arrange the kitchen modules in a logical manner. Avoid placing everything next to each other because it will make cleaning difficult.
However, a kitchen interior designer can help you determine the best layout for your kitchen modules.
3. Size & Dimensions
The dimensions of your modular kitchen should be proportional to those of your current kitchen. If you want a bigger kitchen, then choose a larger module.
However, if you currently have a small kitchen, don't opt for a huge one instead of a smaller one. The ideal dimension of a kitchen module is about 200 square feet. This allows easy access while allowing enough privacy so that you can easily enjoy the company of friends and family without feeling constrained.
Functionality is arguably the most important element of any kitchen design. Not only does it allow you to cook with ease, but it also allows you to prepare food safely and efficiently.
A good place to start when considering functionality is by determining how many cooks you plan to accommodate. Will you be cooking for just yourself or a couple? How large is your home? Do you already have a specific layout in mind for your kitchen? All of these questions play into the size and shape of your kitchen.
Another consideration is the type of work area you have available. Is your kitchen located next to a dining room table? Or is it separated from the rest of your house? In addition to location, the amount of storage you have access to is another important factor to take into account. Does your kitchen have ample cabinet space? How deep are your shelves? Are you able to install custom cabinets?
4. Color Schemes
If you are planning on using woodwork in your modular kitchen, then you should select colors that go well with this material. Don't use bright colors like red, green, orange, yellow, etc. These colors are not appropriate for woodwork. Instead, opt for neutral shades such as white, cream, gray, and black.
5. Appliances
If you decided to include an appliance in your modular kitchen, make sure that you purchase a model that suits your budget and your lifestyle.
You should also purchase appliances that do not require much maintenance. For example, if you plan on cooking a big meal once every year or less, consider purchasing a slow cooker rather than a full-size oven. On the other hand, if you intend on preparing a variety of dishes every day, get yourself a spacious refrigerator.
6. Storage
You should have sufficient storage space in your modular kitchen. To do this, plan on including shelves and drawers in your kitchen modules. Choose models that come with adjustable shelves and pull-out drawers.
7. Lighting
Don't forget to incorporate lighting into your modular kitchen design. Choose light fixtures that match the color scheme of your kitchen. Opt for LED lights since they last longer and consume lesser energy compared to incandescent bulbs.
8. Flooring
Make sure that you include flooring in your modular kitchens. Whether it is tile, concrete, hardwood, carpet, or linoleum, go for what works best for you.
Also, ensure that the type of flooring does not interfere with the movement of your kitchen units. For instance, if you choose tiles, be careful when moving them around. Similarly, if you have wooden floors, make sure that there isn't any gap between the floor and the front wall. Also, avoid having long gaps between the floor and walls.
9. Finishing Touches
Apart from selecting the right materials for your modular kitchen, you should also finish off your kitchen modules by installing some finishing touches. Include decorative elements such as cabinets, countertops, backsplashes, etc. Moreover, install recessed lighting above your kitchen modules. A good finishing touch is adding a drop ceiling over the entire room.
10. Accessories
Include additional accessories in your kitchen modules depending on the size of your kitchen. For instance, if your kitchen has only two rooms, include a breakfast nook.
Add a bar along the back wall to allow people to hang out and chat whenever they feel like doing so. Make sure that there is adequate lighting near the kitchen table so that you can comfortably eat. Another accessory that goes well with modular kitchens is a pantry. However, don't choose a small one because it will take up too much space.
Final words
To conclude, modular kitchens are perfect for those who want to renovate their home without spending a lot of money.
They offer homeowners a wide range of designs and options to choose from. With minimal effort, you can transform your home into something unique and functional. So, if you still haven't made up your mind, then start planning now.
Remember, a kitchen interior in Noida can give you the edge in making your home feel like a home. And if you're planning to renovate or build your dream home, then modular kitchens are one of the best ways to do it.