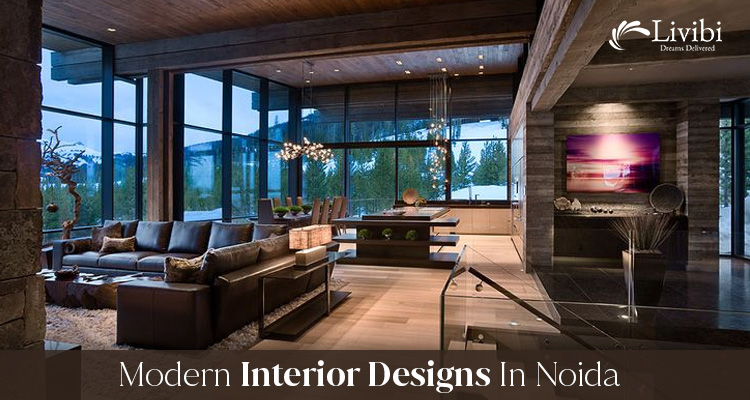 Ultimate Guide to Modern Interior Designs in Noida
Noida is a land of opportunities. It offers excellent lifestyle options and is home to many small and big businesses. A large number of people from all over India come here in search of better opportunities and employment. The city has seen steady growth in population over the last few years and this trend will continue for many years to come.
Modern interior designs in Noida are gaining popularity among residents as well as real estate developers. Most people want their homes to be comfortable, stylish, and functional at the same time. Modern interior designs help achieve this goal by incorporating the latest trends in architecture and interior design into your home.
Modern interior designs combine beauty with functionality. If a room looks beautiful but doesn't offer any comfort then it cannot be called modern interior design. A successful modern interior design should offer both beauty and comfort at the same time so that your guests feel relaxed when they enter your home or office space for the first time.
Interior designing involves a careful selection of furniture, lighting fixtures, paint colors, and other accessories that complement each other perfectly while adding style to your home or office space. Modern interior designers usually create spaces that are larger than life with bold geometrical shapes such as squares or triangles which have been used for ages now but never get old!
Make your home look modern
The best way to make your home look modern is to avoid fussy details and focus on clean lines, bright colors, and open spaces. The key is to keep the style minimalist and uncluttered. Here's how:
Choose a color scheme that's simple and bold. The best way to achieve this is by picking a single color as the dominant hue in your space, then adding other hues as accents throughout the room. You can add more than one accent color if you want, but make sure they all complement each other well.
Keep things simple with furniture that has clean lines and no frills. Try mixing modern and vintage for an eclectic, still stylishly minimalistic look.
Stick with large pieces of furniture like sofas, chairs, coffee tables, etc., rather than smaller items like lamps or rugs — these will help give your room more cohesion and flow without overwhelming it with clutter.
Famous modern interior design styles
Here are some examples of modern interior design styles:
Mid-century modern: This style emerged in the 1940s and 1950s as a reaction against traditional styles of the past. It's characterized by its open floor plans, lots of natural light, and use of materials like wood, stone, or brick.
Contemporary: Contemporary style takes inspiration from many different sources but it typically features clean lines, geometric shapes, and neutral colors like white or gray paired with bright pops of color for interest.
Industrial: Industrial style is often considered an update on Mid-century Modern that adds a heavy dose of industrial elements like exposed beams, concrete floors, and exposed pipes. It's also known to be a popular choice among millennials because of its edgy look.
Modern farmhouse: A combination of both rustic and contemporary styles, this type of home combines old-world charm with modern amenities such as exposed brick walls, wooden floors, vaulted ceilings, and hardwood or tile details.
Boho: Boho style is inspired by native cultures around the globe and can include anything from brightly colored textiles and furniture to accessories made from exotic woods and metals.
Modern ranch house: The modern ranch house has a very relaxed, comfortable feel to it. These homes usually have plenty of windows and large rooms so they're great for families who want to enjoy the outdoors while still being indoors.
Eclectic: Eclectic style incorporates many different elements into one home. You'll find everything from antique furnishings to a variety of art pieces scattered throughout these homes.
Minimalist: Minimalism is all about streamlining your life and living space. One way to do this is to keep things simple and uncluttered. Everything you need should be easy to access and not get in the way of your daily routine.
Incorporate modern design
The most important thing to consider when incorporating modern design into your home is what you want to achieve with it. If you want something sleek, simple, and minimalistic, then a modern aesthetic is for you. If you want something more colorful and playful, you should try out some other styles.
Modern design also has many different variations, so there are many ways to incorporate modern elements into your home without having to use all of them at once. Here are some ideas:
1) Use an open floor plan. This will allow for easy flow between rooms and make the space feel bigger than it is.
2) Use lots of natural materials like wood, stone (or even both!). This gives a warm feeling and makes the space look more inviting and comfortable
3) Use plenty of natural light wherever possible, especially if it's not already there! Natural lighting makes any room feel more spacious and brightens up any room instantly
4) Add some greenery! Plants are great for adding warmth and life into any room, but they also give off oxygen which helps improve air quality too!
Tips for choosing modern furniture
Here's how to choose the right modern furniture for your home.
1. Look for clean lines, sharp edges, and geometric shapes
Modern design's essence is clean lines, sharp edges, and geometric shapes. If you see any curves or natural elements like wood grain, steer clear of those pieces.
2. Make sure it has a clean surface
If you can't see through it, don't buy it! Modern furniture is meant to be sleek and minimalistic so make sure there aren't any patterns or other design details that would distract from the overall look and feel of the piece.
3. Choose a material that suits your lifestyle
Wood is probably one of the most popular materials for modern furniture because it's easy to maintain and works well with many different decorating schemes (especially if you have an open floor plan). Other options include metal (stainless steel or chrome), glass, concrete, and even plastic!
Final words
This ultimate guide to modern interior designs in Noida is designed with a blend of luxury and comfort. There are several features regarding modern homes, such as open spaces, flexibility, modular kitchen, and other contemporary designs suitable for any family member.
The interior's openness helps reduce the chemical effects on our mind and body, which can be caused due to enclosed spaces. Secluded houses have no ventilation systems, while there will be well-ventilated open houses with modern interior that supports better air circulation which is good for your health, especially for your respiratory system.
However, an interior designer in Noida can offer you more than just these benefits. They can also help you create a home that reflects your personality and lifestyle while staying within your budget.